The lively heart of the garden route
Perched on the shores of a rippling lagoon and backed by wild, indigenous forest, Knysna sits in a staggeringly beautiful spot. The town itself (pronounced 'Nysna') is a spirited little enclave located right in the very heart of the Garden Route, so there's every reason in the world to add it to your South Africa holiday agenda. While it might be difficult to pronounce, it's very easy to fall in love with.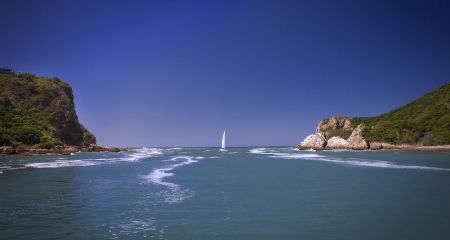 The lively Waterfront area of Knysna is with lined with gently bobbing sailboats and atmospheric restaurants offering fresh seafood, world-class oysters and killer views. From here, you can look out over the blue lagoon with a crisp glass of South African white and gaze towards 'The Heads' - Knysna's most famous natural attraction.
The Knysna Heads are two towering sandstone cliffs that rise from the sea, forming a narrow, organic opening into the Indian Ocean. The Heads act almost as town sentries, sheltering the peaceful lagoon from the crashing surf of the open sea. Beneath the mirror-like surface of the lagoon, a vibrant coral reef also protects the bay, keeping Knysna at arm's length from stormy seas. It's breathtaking stuff.
During your stay in Knysna, you can set sail around The Heads on a sunset catamaran cruise complete with champagne and home-hatched oysters. Romantic doesn't even begin to cover it! You can also take a ferry across the lagoon to the Western Head, now a private reserve called Featherbed Bay, to explore the coastal forest, South African fynbos and sea caves at close quarters.
If you're itching to get out into the great outdoors, you can wander through the leafy, sun-dappled trails of Knysna forest, the largest indigenous forest in South Africa. The forest is dense with ancient and exotic trees as well as ferns, creepers and wild flowers. It's also home to a few grazing antelope and all kinds of colourful birds including the famous Knysna Loerie. It feels almost enchanted and it's a wonderful way to spend a shady afternoon.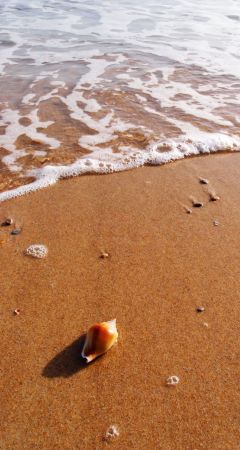 Foodies will have a field day in Knysna, as it's one of the very few places in both South Africa and the world that has its own oyster hatchery. The world-renowned Knysna Oyster Company, situated on the Thesen Islands, opened its doors in 1949 and now offers daily educational tours and tastings. The oysters are a source of fervent local pride and served in almost every restaurant on the Waterfront - there's even a huge festival dedicated to them every year!
Nearby, you'll find a couple of sandy crescent beaches where you can stretch out in the sunshine after a few days of sightseeing. Bollard Bay, on Leisure Isle, is brilliant for families, with clear, shallow waters for safe swimming. Buffalos Bay is another swathe of soft sandy beach which is great for barefoot wanders and fishing trips - and you might even spot whales or dolphins from the shore.
However, Brenton-on-Sea wins hands down when it comes to nearby beaches. Just outside Knysna, it's a magnificent 7 km sweep of pure white sand arching around a heart-shaped bay. Quiet and little-visited during most of the year, it's possible to walk for a good couple of hours in one direction and pass only a handful of other people, although in the height of peak season, surfers and sunbathers will hit these shores. However, please be aware that the currents are strong so swimming is a no-go.
Golfers will be in their element in Knysna, as the Pezula Golf Course is a championship links course offering a challenging, rewarding round in spectacular surroundings. Not only this, but animal lovers can drop in on Knysna's Elephant Park, adrenaline junkies can abseil the Heads or bungee off Bloukrans Bridge, and divers can explore the coral reefs beneath the lagoon.
Knysna really does have something for everything and makes a perfect base for exploring the area. With a huge variety of high quality, atmospheric accommodation to match, it's Garden Route gold and a superb South Africa holiday stop-off.