Time to Snap Up some Safari Bargains
March can be a bit of a mixed bag in terms of the weather, but if you are not afraid of the likelihood of a bit of rain but you are still looking to enjoy some warm daytime temperatures, then this is a great time to be on safari in Africa - especially if you are after a safari 'bargain' as a lot of the lodges and camps run on what is called 'Shoulder Season' rates in March - so you can get some really good prices.
If you are a birder, then you will be in your element if you head to Botswana, as this is one of the months when birding is at its best.
Quick 'At a Glance' Summary
Escape to Cape Town and then go on a Big 5 malaria-free safari
Take advantage of shoulder season rates in Botswana, Kenya and Tanzania
Marvel at Botswana's colourful migratory birdlife
Island hop in Seychelles
South Africa
A holiday including Cape Town, self-driving along the Garden Route and enjoying a 2 or 3 night Big 5 safari in one of the Eastern Cape reserves will give you very pleasant and warm sunny days and evenings throughout your trip - ideal if you are from Europe or North America and you have had just about enough of the Northern Hemisphere winter months and wanting to escape to sunnier climates!
Botswana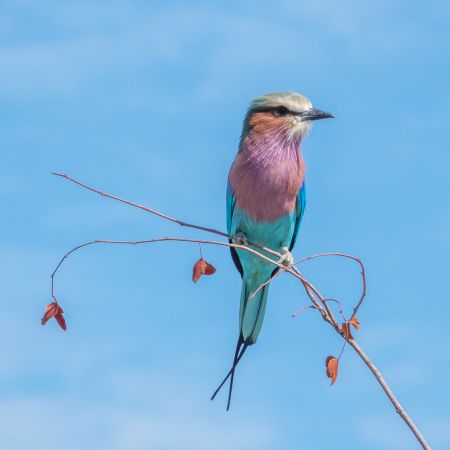 March is the month when you can pick up a great safari deal, as long as you do not mind a bit of heat, humidity and the likelihood of afternoon rain showers (albeit it not every day).
March falls at the end of the Emerald Season - so called because the rains which start in November turn the vegetation into wonderful shades of different greens - and many lodges and camps run very low rates over this period, which makes a normally expensive Botswana safari experience suddenly quite affordable!
Although the wildlife is spread out due to the availability of water supplies, the resident game in the Okavango Delta, the Moremi Game Reserve and along the Chobe Riverfront are still there to search out on morning and afternoon guided game activities, and the birdlife is prolific with migratory birds showing off their colourful plumage.
Read more about travel to Botswana in the Green Season in our blog.
Kenya
If you are looking for purely a short safari holiday, head to one of Kenya's National Parks or reserves in early March. This is just before the 'long rains' normally start in April, so the plains are very dry and the wildlife are heavily reliant on waterholes and rivers.
The rains can come early, however, so it is probably best to travel the earlier part of the month when you are more likely to see the blue skies rather than dark rain clouds.
Many camps and lodges offer lower rates in March, which does mean you can pick up a good deal if you want to make your budget stretch a bit further.
Tanzania
The great wildebeest migration is on the move! The grasslands of the Southern Serengeti have been chomped down, so the wildebeest and their young calves start the long trek northwards towards the greener grazing land that beckons in Kenya's Masai Mara - but it will take them a good few months to get here, having covered thousands of kilometres in the meantime. There is something very magical about gazing over the Serengeti plains and seeing nothing but wildebeest as far as the eye can see. Those on the move will sometimes walk almost in a line, one behind each other.
And to make this sound more attractive - the camps and lodges, like Kenya, are offering lower rates in this month!
Seychelles
March is a popular time for a holiday to Seychelles. Especially if you travel later in the month, you can expect high temperatures. Short lived afternoon thunderstorms freshen up the air nicely, so all it means is that you have to retreat to a bar or your room while you wait for the tropical rain to pass and be replaced with brilliant blue skies again.