Tented safaris in Southern and East Africa
For most people the idea of spending the night under canvas surrounded by the sounds of the African bush brings to mind the romance of a bygone age of adventure. Fortunately there are dozens of tented safari lodges and camps all across Southern and East Africa where it is possible to recapture this magic.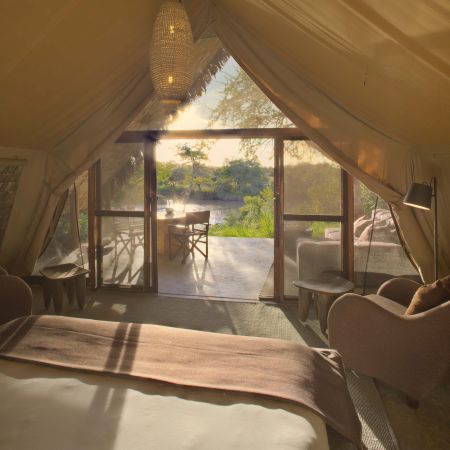 Many of these lodges offer a level of luxury that would normally only be found in the very best 5* hotels, with many 'tents' boasting air-conditioning, luxury bathrooms, and even private plunge pools!
For guests travelling on a more modest budget, there are other tented lodges and camps which offer less extravagant accommodation, however the tents are all still large enough to have proper size double or twin beds and en-suite bathrooms…it's still a long way from most people's traditional idea of 'camping in a tent'!
Especially in East Africa, some of the tented camps are what is known as 'semi-permanent'. This means that they have no permanent cement structures like swimming pools, or brick/stone built areas, so the camps can be completely dismantled and removed, leaving a virgin site that has not disturbed the natural environment whatsoever. These camps also tend to be run off generators and have solar powered lighting, which really enhances the eco-friendliness aspect.
Another popular 'tented' experience in East Africa, which is offered by many of the lodges for guests staying 3+ nights, is to do a mobile/fly camp safari for one night. Your fly camp is set up in advance by the camp staff, and you either walk there as part of your day's safari activity, or you drive there after your last game drive. Fly camping is about adventure, not luxury – your bed is comfortable and the crew cooks amazing meals in the middle of the wilderness, but tents are simple (normally 2 man dome tents), with outside shower and bathroom facilities.