Home to the Magnificent Victoria Falls and Top Safari Game Viewing
Zambia is home to some truly spectacular scenery and is an amazing wildlife safari destination. From the amazing Victoria Falls in the south (one of the natural 7 Wonders of the World) to the vast Luangwa Valley in the north (including the South and North Luangwa National Parks which are home to one of the greatest collections of wildlife in the world including leopard, lion, elephant, giraffe, buffalo, hippo and more than 400 species of birds), it is easy to see why this country is such a draw for a memorable safari holiday destination. First time visitors will find themselves wanting to return again (and again and again).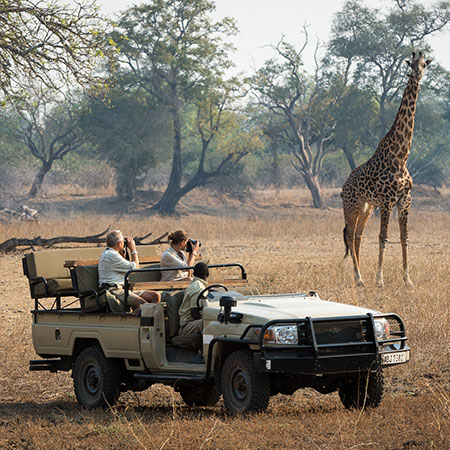 © Robin Pope SafarisSomehow, however, the country still remains untouched by mass commercialisation, and a safari holiday here really feels like a secret adventure that you have stumbled upon and that only you know about.
Silently paddle a canoe through meandering waterways past elephants drinking at the waters edge, walk into the bush and sleep under the stars, or head out on a morning game drive just after sunrise where all you see is wildlife, not vehicles.
Zambia is probably most famous for its dedicated walking safaris, and the quality of the walking guides is unsurpassed - so you are in incredibly good and safe hands as you walk in single file through the bush. Learn about tracks and how to identify a bird from its call even though it is hidden from sight, discover the medicinal uses of various plants, and listen to the other noises of the bush not normally heard over the drone of a safari vehicle engine. Hold your breath as you slowly approach a herd of elephant or buffalo on foot, your heart beating with the adreneline and exhilaration of being so close to nature. Once you have done a walking safari, you are truly spoilt for life.
Night safari game drives with powerful spotlights are also a speciality, especially in South Luangwa National Park. With any luck, you may spot a leopard hunting, or even an aardvark ambling slowly towards a termite mound for its evening snack.
The safari camps and lodges throughout Zambia range from rustic bush camps, some of which are only accessible on foot having trekked through the bush for a day to get here, to luxurious 5* camps with pristine bush or river views.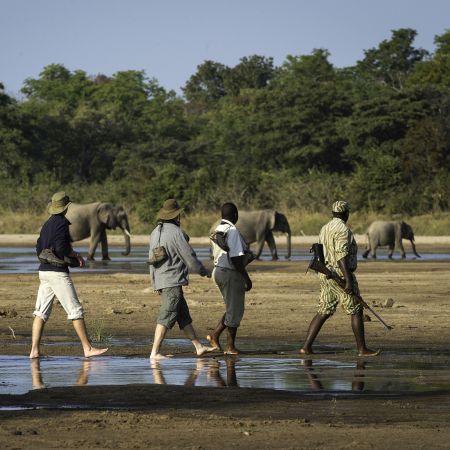 © The Bushcamp CompanyThe quality of the accommodation is undoubtedly some of the best to be found in Africa, with even the most basic bush camp offering something that makes your stay here unforgettable - be it a view over a waterhole, or the feeling of having stepped into the Africa of yesterday.
Some people will say that a safari holiday in Zambia is better suited to the more experienced safari goer, but we disagree. A first timer on safari may not want to undertake a 3 day walking trail, of course, as soon as he arrives in the country, but staying at one of the extremely comfortable and luxury lodges and dabbling with a short morning bush wallk combined with game drives and a boat safari is something that even a safari novice can easily become relaxed with after just a few short hours.
For the hardened safari enthusiast, however, Zambia does also offers a myriad of wildlife experiences, some of which cannot be found elsewhere - seeking out the rare shoebill stork in the Bangweulu Swamps in the north, witnessing the largest bat migration and spotting the elusive Sitatunga antelope in the Kasanka National Park; and watching the breeding colonies of the Carmine Bee-Eaters stretched along the riverbanks of the South Luangwa National Park.
Planning Your Trip To Zambia
Whether you want to visit the Victoria Falls and one or more of the National Parks, or whether you want a serious walking safari or a more general safari experience, we can help plan your holiday to this stunning country. From when you land in either Lusaka or Livingstone, we will take care of everything from start to finish. We can also offer a 'bush and beach' combo, combining a Zambian safari with a stay at the beautiful Lake Malawi.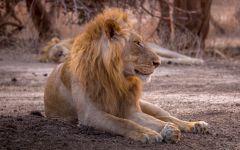 Code: ITINERARY-02724
---
Zambia is a land-locked, warm-hearted African country with an endless list of adventures on offer. Many tourists overlook Zambia as a wildlife destination in its own right, yet the nation is packed with natural delights, making it a superb and secret spot for a safari.
---