Kenya's iconic safari destination
The Masai Mara National Reserve is one of the most popular and most visited African game reserves. Situated in the south-western part of Kenya in the Great Rift Valley, the reserve covers just over 1,500 km². A true 'Out of Africa' safari destination, the reserve is mostly made up of open plains, baked golden by the African sun. And although the actual size of the reserve means that it is certainly not one of the largest in Africa, the sheer density of game and birdlife makes this an exciting and rewarding safari destination, for first-time safari goers or for returning safari enthusiasts.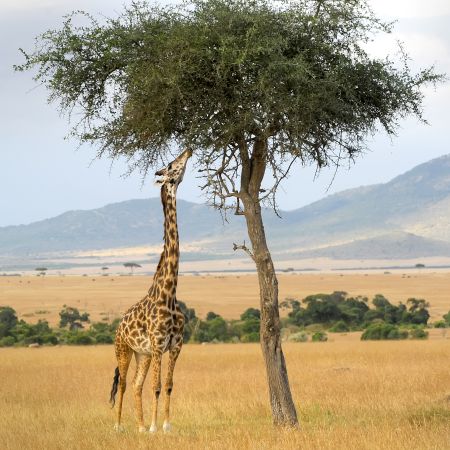 Big cats, elephants, giraffe, wild dog, buffalo, rhino, hyena, wildebeest, gazelles and impala are just a few of the many animal species that can be spotted on daily game drives (no night drives are allowed in the actual reserve itself), and hundreds of bird species have also been recorded.
If you are staying here during the months of August through to October, you will be able to witness the Great Migration, where literally thousands upon thousands of wildebeest, zebra and gazelles gather to graze on the central Mara plains, tired and exhausted after their long and arduous trek from the Serengeti plains in neighbouring Tanzania to reach this fresh grazing land.The last hurdle for the wildlife to cross to get to these plains is the Mara River, where many fall prey to the hungry crocodiles who lie in wait to 'snap up' any tired animals who are finding the dangerous river crossing just too much to handle after a journey that has been already about 900 miles.
As well as game drives, you can also enjoy a sunrise safari hot-air balloon ride – making the Masai Mara now one of the few areas in East Africa where you can still participate in this exhilarating yet gentle activity.
But it is not just about the wildlife. Another highlight of a visit here includes a visit to a Masai tribe who live in mud hut villages dotted around the outside boundaries of the reserve. Unbelievably tall, and distinctively dressed in their traditional red robes, these visits offer guests the opportunity to meet the local community.
There is no wonder really, with all these factors, that the Mara is a special destination – and one that people want to come back to time and time again.