Different Types of Safaris across Southern and East Africa
Travel Butlers can help you book a wide range of different safari experiences, and it really all does depend on what you want, how long you have to spend on safari and what your budget is, as to which type of safari is best suited to you.
There are also a lot of 'safari phrases' that you may see bandied around too, so we hope that this helps to clear some of the confusion up!
Excellent close up game viewing opportunities with an experienced and knowledgeable guide, wonderful accommodation and all-inclusive rates - these are just some of the advantages of a safari in a private safari lodge.
Whether you want the luxury of a suite with its own private plunge pool, or the romance of sleeping under canvas in one of the many tented camps and lodges - you will be assured of a wonderful and unforgettable safari experience.
Fly-In Safaris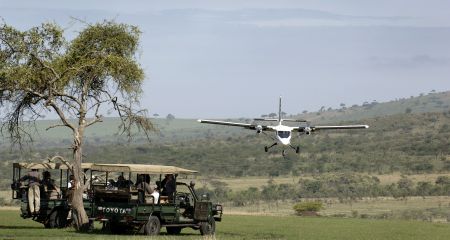 This option is ideal for safari goers who are limited for time, or who want to avoid long drives on dusty, bumpy African roads! Also very necessary if you want to go on safari in a more remote area, or combine different regions that are very far apart.
Very popular in East Africa, and the only way to do a safari in Botswana's Okavango Delta, your light aircraft lands at a tiny airstrip in the bush, where you are welcomed like royalty and then transferred to your safari camp/lodge. Your safari activities will all be done with the lodge/camp's own guides during your stay.
After your safari stay, you are transferred back to the airstrip where your aircraft will whisk you either onto your next holiday destination or back to the reality of an international airport for your flight home.
Driver-Guide Safaris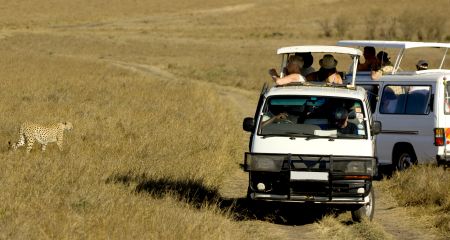 One of the most popular ways to go on safari in East Africa, especially if you are travelling in a group of 4 or more, is to 'hire' the services of a professionally accredited driver-guide and a private vehicle for your safari experience. Whilst this may sound expensive, it actually works out very cost-effective, as the costs are shared between you.
Your driver-guide will not only be your personal 'chauffeur' during your safari, he will be your fountain of knowledge too, sharing everything he knows about the wildlife and the bush as together you journey across the African plains.
He will help you check in when you arrive at your safari lodges/camps, he will sort out any problems along the way, but most importantly, he will be your new best friend by the end of your trip!
Mobile Camps
If you want to make sure that you are right in the 'thick' of the action if your bucket safari list consists of witnessing the Great Migration, then you should consider one of the many mobile tented camps that operate across the Serengeti.
Because this is wildlife, the migrating herds do not stick to a rigid timetable, nor to a set journey plan. The mobile camps make it their duty, however, to ensure that they are set up as near to where the herds currently are, and the camps will move every few weeks, guaranteeing guests 'ringside' seats at all times to the 'Greatest Show on Earth'.
Whilst you will be sleeping under canvas, some of the mobile camps do redefine the meaning of luxury, with kingsize beds smothered in fine linen and private verandas with interrupted views over the plains.
A self-drive safari is ideal for anyone wanting more independence and who wants to please themselves about how long they are out on for, and how long they choose to stay with a particular sighting. These are also especially good if you are on a tight budget but still want the excitement of seeing Africa's wildlife.
Led by a professional guide, you head out on foot instead of on a game vehicle. All your senses are engaged as you walk through the bush - seeing the smaller side of the bush that otherwise you may have missed from a vehicle; smelling the fragrances of the vegetation; stopping to identify tracks in the soft ground. And you may even come across wildlife along the way too. A truly unique safari experience.
Fly Camping
If your aim is to get back to basics and have a real safari adventure, you may want to consider fly camping. Setting off from your main camp on foot, guests will walk for anything beween one and up to 4 hours, before arriving at their temporary 'bed in the bush' camp.
You will sleep out in a simple 2 man dome tent, with a roll mattress, and your 'bathroom' facilities will be a 'drop loo' and a bucket shower. But the best bit is sitting around the camp fire after dinner, which your camp guide will prepare for you (you don't even have to put your own tent up!), and just losing yourself in the sounds of the African bush.
Zambia's South Luangwa National Park is the home of fly camping, but several camps situated in the private conservancies bordering Kenya's Masai Mara or in Tanzania's Tarangire, Selous and Ruaha National Parks will also offer this activity.