Gorilla Trekking, Hot Air Balloon Safaris and More...
If you're looking for an alternative twist on the traditional safari, Africa has a handful of truly unusual experiences in store. You can swap the classic open-topped jeep for the saddle of a pure-bred Arabian horse or camel or hop into the basket of a hot air balloon, all which will give you a very unique perspective of the African bush and an adrenaline-fuelled adventure at the very same time!
Active travellers eager to explore Africa on two feet can trek deep into tropical forest searching for a Silverback gorilla family or troop of chimpanzees or try a thrilling walking safari, walking across the sun-streaked African plains between safari camps. These are both wonderful ways to really get a grassroots, back to nature African experience, involving a real sense of personal achievement as well as the safari of a lifetime.
Budding photographers can set off on a specialised bush experience by booking a Photographic Safari Package. These are now offered by many lodges and feature on-location workshops run by photographers to help you get the very most from your safari snaps.
Each of these options will give you an extraordinary new slant on the idea of safari, making them perfect for second-time safari-goers or anyone after an individual wildlife adventure that doesn't revolve around ticking off the traditional Big Five.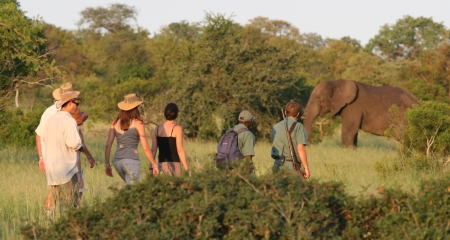 A walking safari is a wonderful way to really feel truly immersed in the African bush around you.
Not being in a vehicle means you can appreciate the sights, sounds and smells of the bush - you will marvel at intricately woven spider's webs, you may spot the tiny tracks of an African civet cat who was out searching for his dinner the night before, and if you are very fortunate, you may stumble across some wildlife going about their daily business. As long as you don't disturb them, they won't disturb you!
Walking safaris can be short or long - many lodges and camps will offer a gentle bush walk for guests after breakfast, normally lasting an hour or 90 minutes tops. Other walking safaris can involve full day but still slow paced walks through the bush with a picnic lunch, or you can book a 3 or 4 day walking safari that involves walking from camp to camp.
Balloon Safaris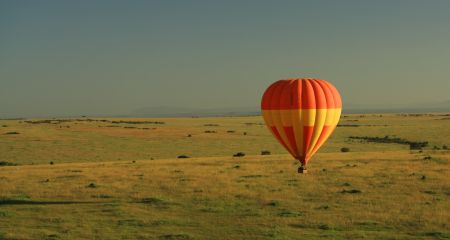 Watching the African bush become tinier and tinier as you drift upwards in a hot air balloon is magical safari stuff. The higher you soar, the more the savanna will stretch out before you, filled with herds roaming free and all kinds of wildlife wandering towards the waterholes. It's an experience to cherish for life and a surefire way to get a totally different take on the bush.
Leaving just before dawn, you'll see the scorching African sun peep up over the horizon as you glide smoothly through the air. The silence of the clear blue sky is astonishing, marked only by the occasional burst from the balloon burner to lift you further from the ground. You'll be treated to a steaming coffee and safety briefing before you take to the skies for a bird's eye bush adventure that will last an hour but will feel like the blink of an eye. Then, upon landing, you'll be whisked off for a champagne breakfast hidden in the bush or provided by a nearby lodge. There really is no better way on earth to start the day.
This kind of safari is made for intrepid travellers mad about primates and it's an awe-inspiring experience in its own right.
With a small group, you'll trek through tropical African forest in the early morning mists until you suddenly stumble across a family of Silverback gorillas grooming one another or wild chimpanzees getting up to all sorts of monkey business in the trees above.
These are magical, once-in-a-lifetime moments that only a handful of people are lucky enough to experience firsthand, so you'll be pinching yourself as these wonderful primates play in the forest around you.
Horseback Safaris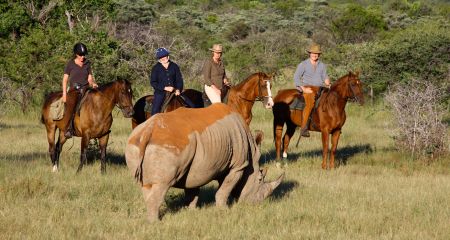 Exploring the African bush on horseback offers a completely unique wildlife experience. The horses are exceptionally well-schooled, and both expert riders and novice alike can enjoy the activity.
Riders will be given a horse that matches their riding ability, and for the complete novices, the horses can be led by a professional guide until you get your confidence in the saddle.
Listen to the sounds of the bush that otherwise would be missed over the engine noise of a Land Rover; smell the fragrances that arise from the bushes as your horse brushes past the foliage; and take your time to enjoy the scenery and wildlife at a relaxed pace.
Camel Safaris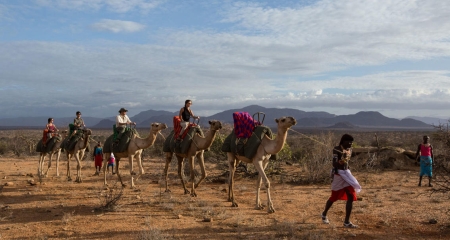 For safari goers to Samburu or Laikipia in northern Kenya, heading out in the cooler afternoon on top of a camel is a truly unique and quirky way to see the African bush.
The slow, gentle and rhythmic pace is relaxing to say the least, and from your high vantage point you can see for miles.
Rides normally last an hour or so, and end with a sundowner drink, after which you can return to the lodge by vehicle.
Or if you are more adventurous, you can head out on a 2 night (or more) camel trek across the plains, sleeping out in a mobile tent.
Safaris With a Professional Photographer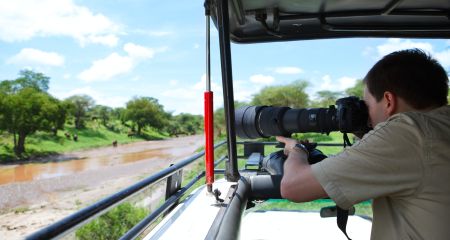 Every kind safari is rich with phenomenal photographic opportunities, but if you're after snaps that stand out from the crowd, some expert guidance will take your shots to a whole new level. More and more lodges are now offering photographic safari packages led by professional photographers who will show you how to get the most out of your safari Kodak moments.
During these specialist safaris, you'll set off in a customised vehicle kitted out with charger points and tripod stands, scouring the bush and savanna for extraordinary photo opportunities.
While you're on the move, you'll learn how to take wonderful wildlife and brilliant birding shots under the expert supervision and one-to-one instruction of professional photographers. Of course, these are skills that travel across borders, so you'll be able to use your newfound knowledge on future trips and safaris.