The Waterberg
Malaria-Free Safaris in the Waterberg
The Waterberg has been described as South Africa's best keep secret. Its rugged beauty, together with its diverse plant and animal life, has led to the development of the Waterberg Nature Conservancy, an amalgamation of conservation areas covering more than 150,000 hectares.
The lodges and reserves of the Waterberg are an ideal safari destination for visitors to South Africa who will be arriving or departing through Johannesburg, or spending some time at Sun City. The area is also malaria-free, making the lodges a great choice for families and others who want to enjoy the African wildlife without the worry of taking anti-malarial precautions.
Several of the lodges can be taken on an exclusive basis, which is ideal for families or groups of friends travelling together, and who want to enjoy complete personal service and total flexibility. Other lodges offer horse-back safaris - by far the most exhilarating and intimate way of viewing game in their natural habitat.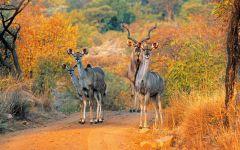 At A Glance
150,000 Hectares
Big 5 and Horse-Back Safaris
Malaria Free Area
3 Hours Drive From Johannesburg
Combines well with Sun City
Special Offers
Selected Special offers for The Waterberg