South Africa Safari Guide
Safari Options From Kruger To The Cape
We've got a huge soft spot for South Africa. We lived there for several months and we've been back countless times since. We've done every kind of safari imaginable in all of the main wildlife viewing areas of the country, and personally visited most of the lodges that we offer. Needless to say, we really know our safari stuff.
Here's our guide to safaris in South Africa, based on all of the knowledge and experience that we've picked up over the years. Hopefully, this will help you get a real idea of what you need and want from your own South Africa safari holiday. Of course, we would be also delighted to answer any questions that you have about your holiday, so please do get in touch if you need a little extra help.
Kruger National Park is the 'Big Daddy' of South Africa safari destinations, offering truly world class Big Five game viewing.
Staying in a private reserve in the Greater Kruger, you'll be treated to dawn and dusk safaris that will take you off-road through the African bush, tracking leopards, lions, elephants and more.
It's exhilirating, beautiful, peaceful and somewhere that we can't recommend highly enough.
Our special offers will help you get the very most out of your budget, allowing you to create the safari holiday that you've always dreamt of.
When we build itineraries for our customers, we always try to include special offers available for the trip. Right now, you can get an extra night FREE if you stay for 2 or 3 nights at a selection of our safari lodges.
Take a look at our Special Offers for all of the promotions that we've got running at the moment. These offers change fairly quickly, so act fast if something catches your eye!
South Africa has more lodges than any other country in Africa, so it can be understandably tricky knowing where to start. To help you get your bearings, take a look at the map below. By clicking on this map, you can see what safari options are available in each area.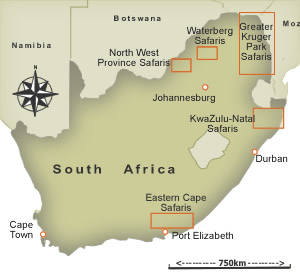 Safaris may have a reputation for being very expensive, but in reality a safari holiday doesn't need to break the bank.
While it may be true that the very famous safari lodges in South Africa come with a hefty price tag, there are plenty of other lodges available that are far easier on the pocket.
We can help you put together a safari holiday full of excitement and adventure on a more modest budget.
From lodges in Eastern Cape which combine perfectly with a trip to Cape Town and the Garden Route to lodges in the wild expanse of the magnificent Greater Kruger Park, our guide will help you find your ideal budget safari lodge in South Africa.
There's something wildly romantic about spending the night under canvas, surrounded by the sounds of the African bush.
It conjures up a feeling of the bygone age of adventure, where explorers spent their nights gazing into clear, starry skies.
In South Africa, there are a whole host of tented lodges where you can experience this for yourselves and we have a great selection for you to choose from.
The safari lodges and reserves in South Africa malaria-free areas are particularly popular with families and wildlife lovers looking to a enjoy a safari adventure in a completely worry-free way, without needing to take precautions for malaria.
There are plenty of lodges available in malaria-free areas and we're, of course, very happy to talk you through the differences between them.
South Africa is home to some of the finest luxury lodges in the world, so if you're celebrating a special occasion or looking for some real indulgence, you won't be disappointed.
These lodges not only provide top notch and truly atmospheric accommodation, but they also offer world-class cuisine in decadent surroundings and wildlife experiences that you'll remember forever.
We have visited the vast majority of these wonderful lodges, so do get in touch if you'd like a hand deciding where to go.
We've been arranging safaris and going on safari ourselves for years, so we've learnt some great tips for keeping costs down.
If your budget for your safari holiday is a little on the tight side, we can help you get the most for your money.
There are a number of tips that are worth keeping in mind when booking your safari, including travelling in low season and keeping an eye out for special offers.
Read more about getting the most for your budget in our budget safari guide.