Highlights and suggested holiday ideas
South Africa really is the Rainbow Nation. It is wonderfully diverse with something for all ages and interests. South Africans refer to their nation as 'the world in one country' and this couldn't be more true. From truly outstanding Big 5 game viewing to breathtaking mountain ranges and scenery, beaches, never ending vineyards, luxury rail journeys and cosmopolitan cities, South Africa has everything you could want from a holiday.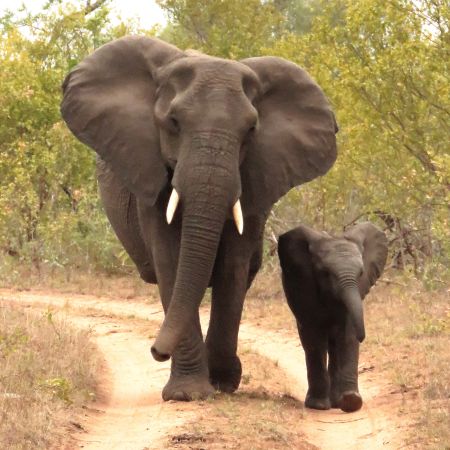 Steeped in history and culture, there are world class attractions in every part of South Africa - from Table Mountain to the haunting Robben Island where Nelson Mandela was imprisoned; the stunning Garden Route coastline; whale watching at Hermanus; the dramatic Drakensberg mountain range; and of course not forgetting the spectacular wildlife of Kruger National Park - to name but a few!
Whether you're looking for a romantic getaway, a couples holiday or family adventure, or whether you have a limited budget or you want to stay in 5* luxury from start to end, a holiday in South Africa will tick all the boxes. There's a huge range of accommodation options ranging from colonial-style guesthouses to sophisticated hotels, as well as traditional safari lodges and tented camps where you can go to sleep surrounded by the sound of the African bush.
There is also an excellent road infrastructure, making South Africa ideal for the independent traveller who is happy to hire a car and set off on their own, giving a holiday here the authentic feel of a real African adventure. If you don't, however, want to spend your entire holiday behind the wheel of a car, then you can opt for either a group guided tour or you can choose to fly between destinations - you can even choose to travel by luxury train for a totally decadent and memorable journey!
The majority of the major airlines such as British Airways, Emirates, Air France, KLM and South African Airways also fly directly into Johannesburg, Cape Town and Durban, making the country incredibly effortless in terms of international travel to get to as well.
Our team of consultants have explored almost every inch of this beguiling country, and are on hand to share their own personal wealth of information and experiences to help you develop your own holiday plans.
When to Visit
South Africa is a year-round destination, however there are some things you may want to consider when planning your trip.
The Southern Hemisphere summer (October to April) is the most popular time for visitors to Cape Town and the Garden Route as this part of the country enjoys warm, dry, sunny summer days at this time of year. The whale watching season in Hermanus (2 hours from Cape Town) runs from July to October.
Whilst the Kruger Park is a great place to visit at any time of year, it is arguably at its best between May and August. At this time of year the temperature is cooler and there is no rain, and it is easier to find the animals as they tend to congregate around waterholes and rivers.
For more about visiting South Africa at different times of year see our guide to the best time to visit South Africa.
Visa Requirements
Visitors should check the visa requirements.
Planning Your Own Trip To South Africa
With such an overwhelming choice of places to visit, activities and accommodation choices, we understand that it can be difficult to know where to start when planning a trip to South Africa.
South Africa is a vast country, so our advice would be not to try to cram too much into a short space of time - rather, take the time to thoroughly enjoy each area before moving onto the next. This may mean that you focus on say just Cape Town, the Garden Route and a safari, or you head to KwaZulu-Natal for the safari teamed up with mountain scenery, battlefields and beaches - or if you are really short on the number of nights you can be away for, maybe it is as simple as visiting just Cape Town then heading off on a safari for the remainder of the time.
We've put together a selection of our most popular South African holidays for 2023/24 below to help you off to a good start. Hopefully, these ideas will give you some inspiration for your own holiday here.
Maybe you will see a holiday that ticks everything you are looking for immediately, or maybe you will see one that is 'nearly there' but needs a few tweaks. Either way, simply give us a call on 01932 428380 or get in touch via our web enquiry form, and we'll get the ball rolling together. Our consultants have all lived in South Africa and been back so many times that we've lost count. We would be delighted to discuss your holiday ideas and work with you to ensure you get your perfect South African holiday, with the right blend of adventure, relaxation and exploring -whatever your holiday wishlist is!