Victoria Falls - Getting There
The ease of combining Victoria Falls with other African highlights
Many tourists combine their holiday in South Africa with 2 or 3 nights at Victoria Falls by flying into either Zambia or Zimbabwe. Both countries are serviced by daily direct flights from Johannesburg, and the flights take just over 2 hours.
A lot of second time visitors also combine a visit to Victoria Falls with a safari in Botswana or Zambia.
Flying into Zambia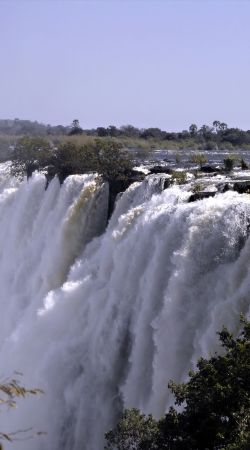 The airport to fly to is Livingstone (airport code LVI). The town of Livingstone itself is an historic colonial city, and is situated only about 10 km from the Falls themselves. The majority of accommodation here is not in the town itself, rather it is spread along the Zambezi River. Road transfers can be arranged from the airport to the many hotels on the Zambian side of the Falls, so visitors do not need to worry about getting taxis or hiring cars.
For people wanting to easily combine the Zambia side of the Vic Falls with a Kruger safari, there is a daily service run by SAA that operates directly from Kruger Mpumalanga/Nelspruit (airport code MQP) to Livingstone. This avoids safari goers having to stay overnight or connect in Johannesburg prior to flying to Livingstone.
This means you can go on a game drive and enjoy breakfast at your bush lodge before flying to Livingstone and ending your day with an evening sunset cruise on the Zambezi - not a bad way to spend a day, really! For people travelling from Livingstone to Kruger, they can enjoy a walk to the Falls in the morning, then breakfast and mid-morning activities before flying down to Kruger to enjoy dinner and the first night in the bush.
The SAA flights departs Kruger/Nelspruit in the late morning and takes about 90 minutes. The return flight departs Livingstone early afternoon, and takes about one hour 40 minutes.
Flying into Zimbabwe
The airport to fly to is Victoria Falls (airport code VFA). Again, road transfers can be arranged from the airport to the many hotels. The town of Victoria Falls itself is about 10 minutes from the Falls, and is small but busy, and has several craft markets where visitors can buy souvenirs and locally made trinkets.
You can either fly directly to VFA daily from Johannesburg, or there is a direct daily flight from Cape Town too (except on Saturdays).