Chimpanzee Trekking and Habituation Experiences
Kibale National Park features on Uganda's safari tourist trail as being one of the best places to go for an unforgettable chimpanzee encounter. Situated in Western Uganda, the Park is 766 square km in size, and protects a lush tropical rainforest, which is home to over 1,000 chimps.
As well as chimps, the forest is home to 12 other primate species such as the endangered red Colobus monkeys, black and white Colobus monkeys, blue monkey, L'Hoest's monkeys and the endemic Uganda Mangabay. In addition, elusive forest elephants and leopards can sometimes be seen, as well as giant forest hogs, several different antelope species and buffalo.
The Park is also home to 325 bird species.
Tracking the Chimpanzees
Guided morning or afternoon walks into the forest, which start from the Park's Visitor Centre, set off to trek the habituated family groups. Visitors are put into groups of just 6, and the experience usually lasts for 3-4 hours. You must buy your permit in advance - these currently cost USD 200 per person per trek (subject to change). Permit numbers are restricted, so early booking is advised to avoid disappointment.
Once you find the chimpanzees, you will spend approximately an hour watching them playing and feeding, but you must maintain a distance of 7-8m from the chimps at all times. Unlike their cousins, the gorillas, chimpanzees tend to be more active and often keep moving through the forest canopies, so you may find yourself following a troop through the dense jungle!
Of course, it goes without saying that sightings cannot be 100% guaranteed as they are wild animals, but the chances of seeing them in Kibale are very good indeed which makes this area the prime destination for chimpanzee tracking.
The minimum age to track chimps is 15 years old. For more information on what to expect from a trek, what to take, and what you can and cannot do when you finally find your chimp troop, please click here.
Chimpanzee Habituation Experience
If you want a bit more from your chimp encounter, then you could consider the chimpanzee habituation experience. On this full day activity, you will assist Kibale's trackers in their daily habituation research and activities, including 'de-nesting' the chimps, following them through the forest and recording their behaviours and movements throughout the day. You will get to spend longer with the chimps, sharing in their daily lives and experiencing their day-to-day activities. The cost is higher, at USD 1,250 per person, but it is a wonderful way to spend the day.
Night Time Forest Walks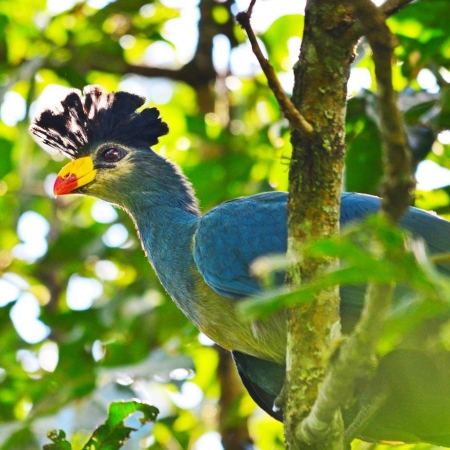 Something quite unique is going on a 2 hour guided evening walk through the forest in search of the Park's nocturnal species that come out once the sun has gone down. Look out for bushbabies, owls, and if you are really lucky, you may even encounter a civet or serval cat starting to hunt for its dinner. The night sounds of the forest that surround you as you walk in the dark along a well developed trail with the aid of just a spotlight are magical.
Bigodi Village and Swamp Walk
Many visitors enjoy this activity in the afternoon, after a morning chimp trek. A project initiated by the local community, you will meet the local people living in the village, visit the primary school, and learn about their way of life. The swamp walk is perfect for birders as you will see a huge variety of birds on the walk (with the megatick being the Blue Turaco), as well as different monkey species.
Tea Plantations
Kibale is surrounded by large, green tea plantations so visits to one of tea estates is a popular way to spend a few hours. You can watch the workers picking the leaves, and you are more than welcome to join in and help! At the factory, you can learn more about how the leaves are made into traditonal black tea, and you get to have a taste too.
Getting to Kibale
The Park is about a 5 hour drive from Kampala, or a 90 minute flight from Entebbe, and we would recommend at least a 2 night stay here, but ideally 3 nights would be perfect if you have the time.