Chobe National Park
Home to the largest elephant population in the world
The Chobe National Park is the 2nd largest National Park in Botswana, covering an area of 10,566 square kilometres, and borders the Moremi Game Reserve in the Okavango Delta in the extreme south-west corner, with the Chobe River forming its the northern boundary. The Park is most famous for its elephant population. Today, it is home to an estimated 100,000 elephants - which is believed to be the highest concentration of elephants found anywhere in the world.
But it is not only elephants that live here in huge numbers - hippos are plentiful, and float lazily in the Chobe River during the day, emerging at dusk to graze along the river banks. Large herds of buffalo, zebra and lechwe (a type of antelope) are also common sightings.
Lion are never far away and are often seen in large prides, lazing around in the shade during the heat of the day and slowly awakening themselves at dusk. Hyena and leopard also hunt at night and are often seen once the sun goes down, whilst another predator, the cheetah, can be seen stalking its prey during the day.
The area is also renowned for its rich birdlife, especially around the numerous waterways - in fact, over 450 species have been documented.
Possibly the most visited section of the Park is the scenic Chobe Riverfront area, which is also known as Serondela. River safari cruises offer visitors a unique safari experience, and are a great way to watch the wildlife.
The western corner of the Chobe National Park is known as the Savuti (also spelt Savute) area, which covers almost 5,000 square kilometres and is renowned as a prime game viewing area.
Huge herds of elephants, buffalos, zebras, impalas, wildebeest and other antelope migrate to this area in the wet season, watched eagerly by prides of lions, and packs of wild dogs and hyena, who are never far behind the herds and always on the look out for a quick snack.
Getting There
For visitors wanting to experience this beautiful area, most will fly into Kasane, and from here, private air charters can be arranged to the individual lodges (most have their own airstrips), or out of the wet season, road transfers can also be arranged. As Kasane is so near the Park, the transfer time even by road tends to be quite short.
Another popular route is for visitors to combine a safari in Chobe with a stay at Victoria Falls. From Livingstone to Kasane is only about 90 minutes by road (excluding time spent at the border post).
The Park, especially the Riverfront area, is also extremely popular with day visitors, who cross the border from Victoria Falls and visit the Park for just a short game drive and river safari trip.
Add To Wishlist
Enquire Now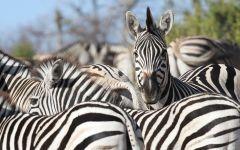 Holiday Ideas
Guest Photos