Home to mountain gorillas and golden monkeys
Rwanda is one of only a handful of countries that are able to offer one of the world's most amazing wildlife experiences - the chance to look into the eyes of a large silverback mountain gorilla in the wild.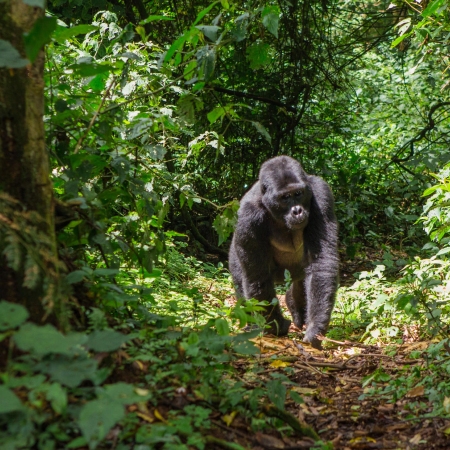 The Volcanoes National Park in the Virunga Mountains is situated in north-western Rwanda and is home to 12 families of mountain gorillas which are spread throughout the Park.
The Park is a 3 hour drive from Kigali and gives you the opportunity to relax and enjoy the stunning scenery en-route to what will possibly be one of life's most coveted bucketlist experiences. Rolling hilly countryside will unravel before your eyes and you will instantly understand why Rwanda is known as the 'Land of a Thousand Hills'.
Volcanoes National Park is named after the chain of now dormant volcanoes that form part of the border between Rwanda, Uganda and the Democratic Republic of Congo (DRC) - Karisimbi which is the highest, Bisoke, Sabyino, Gahinga and Muhavura. The vegetation is lush rain forest which is alive with the calling of over 200 colourful bird species. The bamboo forest is often shrouded in mist, giving an etheral and magical feel to accompany your stay here.
Dian Fossey, the American primatologist and conservationist, spent 20 years here (and in Uganda) researching the mountain gorillas and her work saved them from extinction. Her book 'Gorillas in the Mist' is an account of her study of the gorillas and was published two years before her death and was adapted in 1988 into a film of the same name starring Sigourney Weaver.
Gorilla Trekking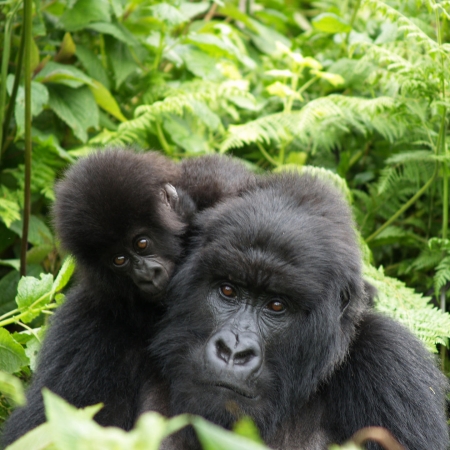 Daily treks to see these endangered creatures start from the Park headquarters and numbers are strictly limited to normally 8 visitors per day for each family group of gorillas, so this is an exclusive trip in the truest sense of the word.
Having enjoyed maybe breakfast at your lodge or certainly a refreshing cup of coffee or tea, you will depart early in order to arrive at the headquarters by about 7 am - so forget any lie in today!
Visitors are allocated a gorilla family based on fitness levels, so everyone is trekking with other people of the same standard of fitness so nobody gets left behind!
In order to find the gorillas, you may have to walk for up to 8 hours including negotiating some steep hills, so you do still need to have a reasonable degree of fitness.
Once you have had your briefing about your particular gorilla family, you head off in a vehicle to the nearest point to where the gorilla family were last seen and set off on your trek.
You are accompanied by your Park guide who will lead you through the dense forest and will be able to answer any questions you may have along the way. Also in the group are the trackers who will forge ahead and clear the path for you. Porters are on hand to help carry any bulky camera equipment or to assist with any tricky parts of the path - don't be afraid to ask for a helping hand! There will also be a couple of armed rangers with you as well.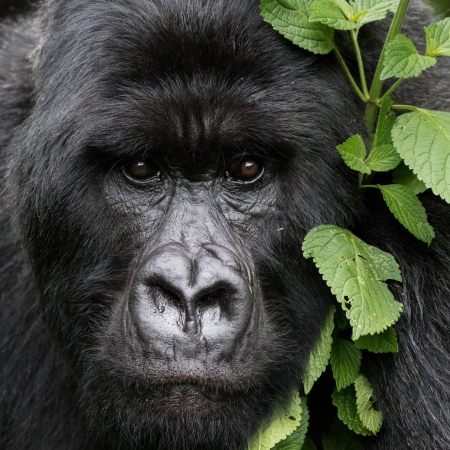 Sometimes the gorillas are much lower down the mountains and closer to the lodges (especially in the rainy months of April, May, and November) - and at these times you may only have a short 30 minute walk to find them, but it is best to be prepared for a longer walk as this is the norm.
When you find your gorilla family, you will spend an hour with them. What happens in that hour is entirely up to the gorillas - you have no influence at all over what they will do!
The time really does fly past and you will be amazed at how quickly 60 minutes will go - which is why many people choose to include a second trek the following day - no only does this give you longer to enjoy the experience, you can also trek a different family.
The minimum age for gorilla trekking in Rwanda is 15 years. A maximum of 80 gorilla permits are issued per day and during the high season these sell out far in advance, so it is therefore important to book gorilla permits as early as possible.
Cost of the Permits
The permits to visit the gorillas cost USD 1,500 per person for each day that you wish to track them. This may seem very expensive at first glance, however these funds are essential protect both the gorillas and the environment by making the Park economically viable.
Best Time to Trek Gorillas
Whilst gorilla tracking can be done all year round, the best (and most popular) months are during the drier seasons - so between December and February and from June to mid-September.
Trekking the Golden Monkey
In addition to mountain gorillas, the Volcanoes National Park is home to the rare and also endangered Golden Monkey. Easily recognised by their yellow/orange coloured coat, they differ from other primates by their noses - normally in a primate the nostils point to the sides but the Golden Monkey's nostrils face upwards.
There are two habituated groups of Golden Monkeys in the Park, with one group comprising of beween 80-100 monkeys and the other slightly smaller. As with gorilla trekking, the treks start early in the morning from the Park headquarters and visitor numbers are not limited.
Once you find the monkeys, you have an hour with them to watch as they swing through the trees or play together on the forest floor.
The cost of a permit is currently USD 100 per person per trek and pre-booking is definately advised.
What to Wear
Ideal clothing for a trek through the rain forest are sturdy and comfortable hiking shoes, long trousers and long sleeved shirts, a sweater/jumper and a light waterproof jacket. A small backpack for carrying water and camera equipment is advised which also means your hands are kept free just in case you need to reach out and grab a porter for support!