Lower Zambezi National Park
Sausage Tree Camp is the epitome of bush chic offering a civilised approach to a true bush experience with lavish attention to detail. This exclusive safari camp is set in the most stunning location on the banks of the Zambezi River in the heart of the Lower Zambezi National Park's best game viewing area.
Sausage Tree Camp offers a wide range of safari activities including day and night game drives, walks, canoe trips, boat cruises and fishing. With personalised guiding, guests decide exactly what activity they would like to take and when. All of the guides are fully trained and have many years of experience, ensuring that the highest quality of guiding and safety standards are achieved. Elephant, hippo and buffalo are seen in camp daily. Guests also have an extremely high chance of seeing lion, leopard, wild dogs, hyena, waterbuck, zebra, impala, bushbuck and kudu during their stay.
Night drives are the perfect way to experience the nocturnal animals, including the elusive leopard, genet, civet, porcupine and giant eagle owl. The big cats tend to be more active at night and you may find yourself following lions on the hunt. Your guide will also point out the constellations of the Southern night sky.
Each of the 7 luxury tented suites are situated close to the river's edge allowing unrivalled views over the reed islands in front of camp teeming with wildlife. Each suite offers a lounge area, bedroom, indoor bathroom with open air shower, and sliding doors leading out onto a large deck complete with outdoor lounge area and a private plunge pool. The tents are constructed from canvas and eco man made "wood" and decorated with soft linens, natural wood and modern furniture.
In addition, there is also Kigelia House, which is the perfect choice for small groups or families, with 2 en-suite bedrooms separated by an open plan living area leading onto a private deck with a plunge pool.
The superb African fusion cuisine is enjoyed in surprising locations, with white linen and atmospheric candlelight. The main guest area houses the dining, lounge and bar areas and connects to a large 25m lap pool which is idyllically situated overlooking the mighty Zambezi River.
Featured Special Offer saf-05218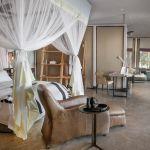 For stays of 4+ nights the flights into and out of Jeki are charged at USD 50 per person per flight - for taxes and fees.
Valid: 1 April 2022 - 22 November 2022.
Prices On Request
Rates Include
Park fees; Conservation Levy; all meals; drinks (except premium spirits; champagne; sparkling wines and premium wines); a laundry service; shared safari activities; boat trips; fishing; canoeing; and road transfers between Jeki and Sausage Tree are included.
---
Children Policy
Children aged 8 years and older are welcome. Rates available on request.
---
Reload Map
Sausage Tree Camp Location.
General Information For Guests
All suites have a lounge and dining area, complimentary mini-bar and a kingsize bed overlooking a private pool set into the expansive deck. Each tent also has its own personal Muchinda (butler) to attend to your every whim. All tents have 24 hour power and hot and cold treated water, an outside and indoor shower, a bath, a fan, and mosquito nets.
Kigelia House has 2 en-suite bedrooms separated by an open plan living area leading onto the private deck and pool, as well as a personal Muchinda (butler), 24 hour power and hot and cold treated water.
Dinner consists of 3 courses of fine dining served with South African wines. Dinner is served at a hosted table where you can share the adventures of the day or in the privacy of your own tent served by your personal Muchinda.
Activities include day and night game drives, walking safaris, canoeing and boat cruises, birding trips and fishing.
Complimentary internet access is available.
The main camp area has a swimming pool.
Popular Alternatives to Sausage Tree Camp
These are the top properties booked by people who considered staying at Sausage Tree Camp, but for one reason or another booked a different property. It may have been that Sausage Tree Camp was not available on the nights they wanted to stay, or they decided that somewhere else was better suited to their budget or itinerary.
If you're not sure which place might be best for your own trip then either give us a call or get in touch via the website, and we'd be delighted to run through the options with you.