Big 5 Safari Photos: Rhinos
Rhino Photos Taken By Travel Butlers Guests and Staff
Unfortunately, despite all of the magnificent work done by Save the Rhino and other organisations over the years, both black and white rhinos remain endangered due to poaching for their horns.
Over 90% of the world's 20,000 or so white rhino are found in South Africa, but even here the increase in poaching is a major threat to these incredible beasts. The black rhino is under even greater threat, with less that 5,000 individuals worldwide, and the only significant populations are today found in South Africa and Namibia, making up 75% of the world's population between the 2 countries.
Photographic safaris are making a substantial contribution to the conservation of these species, and these rhino photos were all taken by our guests or members of the Travel Butlers team whilst on safari.
All pictures remain copyright of the original photographer.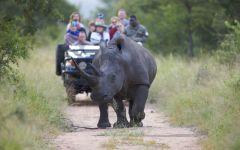 Why Book With Us?
Specialists in African Holidays
Friendly Expert Service
Hundreds of Special Offers
Tailor-made itineraries
Price Promise
No Credit Card Fees
We can book your flights
ATOL Protected
UK Based
Financial Protection


All the flights and flight-inclusive holidays on this website are financially protected either by ABTOT Combined or the ATOL scheme.
When you pay for something protected by the ATOL scheme you will be supplied with an ATOL Certificate. Please ask for it and check to ensure that everything you booked (flights, hotels and other services) is listed on it.
All packages that are not protected by ATOL are protected by ABTOT.
See our Terms and Conditions for more information about financial protection.