10 Nights in Paradise
Featured Accommodation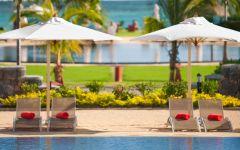 Tamassa
Mauritius
Destination: Mauritius.
Tamassa is an all-inclusive hotel, located at Bel Ombre in the south-west of the island, is surrounded by dramatic mountains and dense sugarcane fields. Here an effervescent zest for life combines with contemporary design to bring the young (and young at heart) the perfect spot for fun and relaxation.
This is a 10 night itinerary including Mauritius.
Based on 4 Star Accommodation:
Price Per Person From
---