Laguna Beach Hotel & Spa
Mauritius
Set against the scenic backdrop of the Grand-Port mountain range, the Laguna Beach Hotel & Spa is a gem in its kind - a postcard beauty with a real soul, featuring tropical architecture, a pristine beach and the transparency of an exquisite lagoon.
The Laguna Beach Hotel & Spa is located in Grand River South East, along the South East coast of the island and a mere 30 minutes drive from the airport. To discover Laguna Beach Hotel & Spa, you drive through Camp des Pêcheurs (Fisherman's Cove) - a tiny village which is totally unspoiled and authentic.
Hotel facilities include a large swimming pool plus a Kids pool, a gym and free watersports, including pedalos, kayaks, glass bottom boats, windsurfing and snorkelling. A free shuttle-boat takes hotel guests over to the Île aux Cerfs, a tiny castaway island and certainly worthy of a visit.
There is also a small Spa Retreat, offering massages and body treatments.
The hotel features 64 rooms split into Standard rooms, Deluxe rooms and Family rooms.
The rooms are equipped with individual air-conditioning units, direct dial telephone, electronic safe, minibar, hair dryer, TV with local and satellite channels, and tea/coffee-making facilities.
All rooms are sea-facing, with a balcony or terrace.
There is musical entertainment at night, including Sega shows on Saturdays and cultural shows on Wednesdays.
Show Rates in
Our standard rates for a Standard Room
Dates
Price
Basis
Type
Nights

1 October 2019

to

30 November 2019

GBP 89

USD 114

ZAR 1,691

EUR 104

per person sharing
Standard
1+ nights

1 December 2019

to

21 December 2019

GBP 84

USD 108

ZAR 1,596

EUR 98

per person sharing
Standard
1+ nights

22 December 2019

to

4 January 2020

GBP 134

USD 172

ZAR 2,546

EUR 157

per person sharing
Standard
4+ nights
Prices are on a per person sharing basis (pps).
Special offers for longer stays or when booked as part of a longer itinerary may apply - details on request.
---
Rates Include
All Inclusive basis.
---
Children Policy
Children of any age are welcome. Rates available on request.
---
Special Offers
Special Offer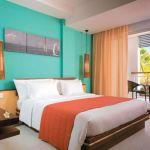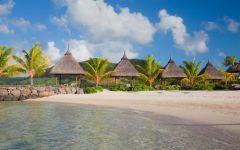 Code: M-04624
---
Save 5% when you book 30 days before you stay at Laguna Beach Hotel & Spa in Mauritius.
Valid: 5 January 2019 - 4 January 2020.
Book Before: 4 December 2019.
Example price for 2 people staying 1 night from:
Example price based on staying in a Standard Room between 1 December 2019 and 21 December 2019.
Applicable to all room categories.

Applicable also for Single occupancy and for extra adult bed.

Applicable also for Children/Teens sharing parent's room and in own room.

Not applicable to meal plans, Christmas and New Year's Eve Supplements.

Offer is combinable with the Free Nights and Honeymoon offers.
Reload Map
Laguna Beach Hotel & Spa Location.
Popular Alternatives to Laguna Beach Hotel & Spa
These are the top properties booked by people who considered staying at Laguna Beach Hotel & Spa, but for one reason or another booked a different property. It may have been that Laguna Beach Hotel & Spa was not available on the nights they wanted to stay, or they decided that somewhere else was better suited to their budget or itinerary.
If you're not sure which place might be best for your own trip then either give us a call or get in touch via the website, and we'd be delighted to run through the options with you.