Sossusvlei Desert Adventure
Featured Accommodation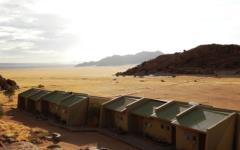 Namib Naukluft
Namib-Naukluft National Park
Destination: Namibia.
Experience the astonishing contrasts of the Namib, the world's oldest desert - harsh and rugged in landscape and climate, yet so delicate and exquisite in its support of fragile life. You will visit the country's top desert attractions and enjoy sightings of the unique desert-adapted animals that roam the dry valleys and star-shaped dunes.
This is a 2 night itinerary including Namib-Naukluft National Park.
Based on 3 Star Accommodation:
2 Nights at Namib Naukluft Lodge and Soft Adventure Camp
Price Per Person From
---