Thakadu River Camp
Madikwe Game Reserve
Thakadu River Camp is situated in the eastern section of the malaria-free Madikwe Game Reserve, just a 5 hour drive from Johannesburg, or 3 hours from Sun City.
The private reserve, which boasts 75,000 hectares of game viewing territory, is home to Africa's Big 5 - elephant, lion, leopard, rhino and buffalo - as well as wild dog, cheetah, plains game including gemsbok, springbok, zebra and giraffe, and over 340 species of birds. Game drives are lead by highly trained rangers with a vast knowledge of the wildlife.
Both morning and evening game drives offer completely different opportunities and sightings. Expect to see everything from elephant and rhino to lion and giraffe during a morning game drive, when as well as the wildlife you get to enjoy the sounds and smells that accompany the dawning of a new day. Leopards are a bit more difficult to spot but should you wish to find this well-hidden creature, evening game drives are your best bet. As the sun sets, as well as leopard you may be able to spot hyena, lion, jackals, birds of prey and much more.
Thakadu River Camp is set within the riverine canopy along the banks of the Marico River and consists of 12 tented suites, each with their own viewing deck overlooking the river. The tents are spacious and are superbly decorated and appointed.
The main guest areas include an open-plan lounge, a dining room, a pool and a bar area to relax in after a day of game viewing.
Featured Special Offer saf-04673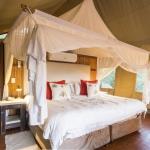 Stay for 3 nights for the price of 2 at Thakadu River Camp in the Madikwe Game Reserve.
Valid: 1 May 2019 - 30 July 2019.
Prices on request
Show Rates in
Our standard rates for a Family Suite
Dates
Price
Basis
Type
Nights

1 April 2019

to

30 April 2019

GBP 208

USD 270

ZAR 3,843

EUR 241

per person sharing
Standard Rate
1+ nights

1 May 2019

to

30 July 2019

GBP 208

USD 270

ZAR 3,843

EUR 241

per person sharing
Standard Rate (1-2)
1 to 2 nights

1 May 2019

to

30 July 2019

GBP 208

USD 270

ZAR 3,843

EUR 241

per person sharing
Stay Pay (3/2)
3+ nights

31 July 2019

to

30 September 2019

GBP 208

USD 270

ZAR 3,843

EUR 241

per person sharing
Standard Rate
1+ nights

1 October 2019

to

31 March 2020

GBP 250

USD 324

ZAR 4,616

EUR 289

per person sharing
Standard Rate
1+ nights
Prices are on a per person sharing basis (pps).
Special offers for longer stays or when booked as part of a longer itinerary may apply - details on request.
---
In addition to the room rate, guests will also be charged the Madikwe Conservation Levy (pppn)
Dates
Price
Basis
Type
Nights

1 January 2019

to

31 December 2019

GBP 8

USD 11

ZAR 152

EUR 10

per person per night
Standard
1+ nights
---
Rates Include
All meals; the Madikwe Conservation Levy; and daily morning/afternoon shared game drives are included. IN ADDITION: For self-drive guests, the gate entry fee of R210 per adult/R105 per child (subject to change and payable in cash) to enter the reserve is NOT included. For guests travelling by FedAir, the landing/departure fees are not included and are payable directly to the lodge (currently R280 per adult/R140 per child and subject to change).
---
Children of any age are welcome. Rates available on request. Special childrens game drives are available for children under 6 years of age.
---
Special Offers
Free Night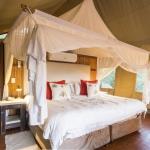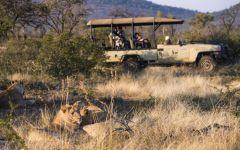 Code: SAF-04673
---
Stay for 3 nights for the price of 2 at Thakadu River Camp in the Madikwe Game Reserve.
Valid: 1 May 2019 - 30 July 2019.
At Thakadu, their policy is to allow children aged 6 and over on the first game drive, giving everyone the opportunity to determine if the children would like to join the usual daily game drives, or whether the children would prefer to take part in the kiddies programme.
Children under the age of 6 are not permitted on normal game drives (according to the rules of the Madikwe Game Reserve as a whole), but the lodge will, nevertheless, make sure they have a brilliant safari experience and learn a huge amount about the bush.
The kiddies programme starts at 3 pm, after the children have enjoyed high tea with their family. The kiddies guide will meet them at tea, and will be there to wave off their families on their drive.
The kiddies guide will be assisted by a babysitter while he takes the little ones on a 'bug walk' in and around the camp, They will be looking for all sorts of creepy crawlies and the guide will tell a little story about each of the bugs they find. They will also look for birds, butterflies and do a bit of 'bush craft' where the children can learn to make rope, a toothbrush from bushes and other small things. Your little ones can tick off their findings on the checklist provided.
The 'dung garden' will be visited too, where they can identify dung and get real close up with animal skulls and bones.
They can also participate in a small bush treasure hunt to find bird's nests, snake skins, and so on. There will be a small prize for the child who finds the most 'treasure'.
The lodge can do an early dinner for children if you wish. The menu has a variety of kiddies meals that the chef can make for them. The chef will come and meet you during high tea to discuss your kiddies meals for dinner.
Children are welcome to join adults for dinner, and dinner for the entire family can be served straight after returning from your game drive.
On request, the lodge can make a fire in the boma, and take the kids down there after dinner for a marshmallow braai while they listen to bush stories read by the babysitter.
Babysitters are available (rates available on request) should you wish to tuck your little ones into bed with a bed time bush story while you have a dinner for 2.
Wake up call for the adults is at 6 am for the early morning game drive. Should you wish to go, please tell the babysitter the previous night what time you would like them to come to your room. She will then get the children ready for breakfast that will be served any time they wake up. Again, children are welcome to join the adults for brunch when they return from their game drive, normally around 10.30 am.
After brunch, the kiddies ranger and another guide will take your children on a short game drive. This drive will last for about 2 hours, and they will be doing all sorts of activities on the drive like spoor moulding, bird spotting, track identification and looking out for animals too. Please note that babies or toddlers between the ages of 18 months and 3 years must be accompanied by an adult on these drives. Children older than 3 may go without adult supervision, but they will be accompanied by a nanny. Babies under the ages of 18 months may not be taken out on kiddies drives unless the drives do not visit any Big 5 sightings.
The lodge also has a small 'bush exercise' programme that will keep the little ones active. Their ranger will take them for a short jog in the camp, followed by a few minutes of stretches, star jumps, bean bag throwing and ball kicking. This can be done at any time.
Kiddies can also paint their own t-shirts and caps. These are available at reception at an additional cost (prices on request), and the painting can be done with their ranger or their babysitter. There is also play dough available, and clay animals can also be made.
On departure, all children will be issued with a 'Thakadu River Camp Bush Experience' certificate to take home.
Guest Rating: 4.8 / 5.0 based on 12 ratings
We were well looked after by the staff of Thakadu, who went out of their way to prepare Halal food for us for all our meals. The food was also delicious and we were well fed throughout our stay. Our ranger Kagiso was also amazing - knowledgable about the reserve and its flora and fauna.
F SAMAT
Thakadu River Camp - good guides with not only great knowledge but also stories of their culture which relates to the bush.
P GOODWIN
Reload Map
Thakadu River Camp Location
Directions For Drivers
SUGGESTION: Refuel at Sun Village/Zeerust as there is no fuel available inside the reserve. DO NOT follow your GPS after Zeerust/Sun City - it will take you on the wrong roads.
From Johannesburg Airport: Watch out for the sign saying R21 Pretoria/Kempton Park. It is on the left, and the turning is soon after leaving the Airport, so keep a sharp lookout. Follow the signs to Pretoria and N1 Pietersberg.
After approximately 36 km you will see big signs over the highway - follow the direction N1 Pietersberg - you are now travelling in a northerly direction - and proceed for quite a while. You will see signs for a toll road called Bakwenya Platinum Highway N4 Rustenberg. Take this toll road. Once on the N4 continue in the Rustenberg direction – take Exit 225 which is the R556 Sun City/Majakaneng. Turn right at the top of the off ramp to Sun City and continue straight to Sun City (it is approximately 73 km to Sun City from this off ramp).
After passing Sun City on the right, continue straight until you reach a 4-way junction. Turn right to *Derdepoort. Follow the road for approximately 8 km, and turn left at the sign saying *Bapong. Continue straight along this road (ignoring ALL signs saying Madikwe etc). After passing through Mabeskraal you will come to a 4-way stop – turn right to *Derdepoort.
After about 25 km the tar road ends and becomes gravel/dirt. The Dwarsberg Liquor Store is on your left, and continue straight along the gravel road towards Molatedi Village (do not take the next Derdepoort turning to the right, but continue straight). Pass through the Molatedi village, go over the Marico River and enter the reserve via the Molatedi Gate. You will have to pay a gate entrance fee of R210 per adult/R105 per child (subject to change and payable in cash) to enter the reserve.
Once you are in the reserve, follow the signs to the lodge. Allow about 20-30 minutes to drive from the gate to the lodge.
Do not get out of your car until you reach the lodge. You may see some wildlife on your way - if you do, slow down and maintain a good distance. Do not drive off-road in any circumstances.
*There are Madikwe Game Reserve signs at these points.
From Sun City: Turn right out of the reserve, and follow the directions as above.
General Information For Guests
All rooms have air conditioning, a hair dryer and a viewing deck.
The main lodge area has an open plan lounge, dining and reception areas, a bar and a pool.
There is a therapist on site, and a range of treatments can be booked. All treatments are carried out in the privacy of your own room or on your private deck.
Guests have the opportunity to enjoy early morning as well as evening game drives where the chances of spotting the Big Five, are high. Both morning and evening game drives offer completely different opportunities and sightings.
Popular Alternatives to Thakadu River Camp
These are the top properties booked by people who considered staying at Thakadu River Camp, but for one reason or another booked a different property. It may have been that Thakadu River Camp was not available on the nights they wanted to stay, or they decided that somewhere else was better suited to their budget or itinerary.
If you're not sure which place might be best for your own trip then either give us a call or get in touch via the website, and we'd be delighted to run through the options with you.