Motswiri Camp
Selinda
Motswiri Camp is located in the world-renowned Selinda Reserve on the banks of the Selinda Spillway, and operates exclusively on over 120,000 acres of pristine, African bush. The birding is superb and the reserve is also home to giraffe, zebra, tsessebe, Roan antelope, Sable, lion, leopard, cheetah and wild dog. Large herds of elephant and buffalo migrate through the reserve during the year. Motswiri Camp offers walking safaris, canoeing and mokoro excursions.
For the horse riding enthusiasts, the camp offers riding safaris in the reserve. The terrain is a mix of open flood plain, dry savannah and riverine bush, resulting in great change in pace and experiences as each day evolves. There are between 20 and 24 well schooled horses,ranging from Thoroughbreds to Boerperds, Arabs and Kalahari crosses, large to small, and all are accustomed to riding in big game areas. Up to 6 hours per day are spent in the saddle - so riding fitness and experience is required.
In addition, boating safaris are offered in powered boats, canoes and mokoros; game drives and night drives are another option for game viewing; or for those preferring to keep both feet on the ground, walking safaris in small groups interspersed will get you close to nature.
Motswiri Camp consists of 5 large and tastefully appointed en-suite classic meru tents all on raised decking that overlook the Selinda Spillway where the elephants regularly come to bathe in the afternoons. Each tent has its own private bathroom, and large decked veranda. Motswiri Camp also has a specially-designed family unit.
The main area of the camp offers a large, comfortable sitting area with separate dining. There is also a small plunge pool for those hot afternoons. In addition, there is a separate viewing platform which overlooks a deep pool where the elephants come to drink.
Featured Special Offer saf-04212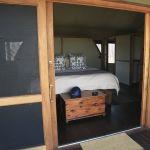 Stay for 3 nights for the price of 2 at Motswiri Camp in the Okavango Delta.
Valid: 1 April 2018 - 31 March 2019.
Prices on request
Rates Include
All meals and shared activites are included.
---
Reload Map
Motswiri Camp Location
Popular Alternatives to Motswiri Camp
These are the top properties booked by people who considered staying at Motswiri Camp, but for one reason or another booked a different property. It may have been that Motswiri Camp was not available on the nights they wanted to stay, or they decided that somewhere else was better suited to their budget or itinerary.
If you're not sure which place might be best for your own trip then either give us a call or get in touch via the website, and we'd be delighted to run through the options with you.